Walk-in wardrobes
Walk-in wardrobes in Cork from Slide Deco have a very simple advantage to making your space more useful. First of all, you can be sure you are dealing with the best materials at affordable prices. Secondly, experienced designers will make walking-in wardrobes to suit your personal storage needs. Lastly, we will measure with mm accuracy to make sure that the wardrobe we will install is tailored to your highest standards and that you can enjoy it for almost forever. (10 years guarantee).
Wardrobes Cork – quality wardrobes The more wardrobes we do the more we love them. We are always making sure the customers are left fully satisfied with the wardrobe. To get your personal quote simply contact one of our showrooms or visit us to make an appointment. You can also send us your measurements and we will prepare an individual quote.
See for yourself some of Slide Deco wardrobe solutions.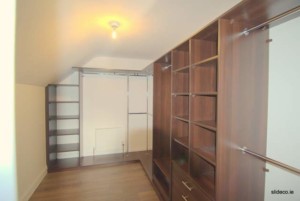 ALWAYS GREAT PRICE WARDROBES AND TOP QUALITY.
Slide Deco Design Software allows viewing the project in 3D. It will accelerate the whole making process for the comfort and time of our customers. Moreover, you will be able to see how the changes in the design will affect the price
The product will reach your home within 4-5 weeks of ordering. Lastly, the installation takes usually one day.
If you have any questions please just let us know. We will answer all your questions by phone, email, or in the showroom. Visit SlideDeco Cork & Limerick FB page.https://www.facebook.com/SlidecoWardrobes for more inspiration.